Students 'worst' at e-book piracy, says data monitor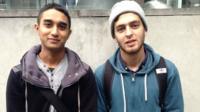 Students are the biggest culprits when it comes to e-book piracy, according to an online data monitoring company.
NetNames says its investigators looked at the availability of 50 popular textbooks across five different disciplines in the UK.
In total, 76% of the titles were available to download free in pirated form on one e-book sharing site.
NetNames says publishers are trying to beat piracy by getting their content out to users as quickly as they can.
Science and engineering were the most pirated academic textbooks.
SUBJECT
TITLES CHECKED
PIRATED
INDIVIDUAL PIRATED COPIES
Medicine
10
7
16.8
Mathematics
10
7
14
Science
10
9
15.1
Engineering
10
9
29.2
Business
10
6
11.1
Total
50
38
17 (Average)
NetNames' director of piracy analysis, David Price, says the expense of educational books could be the problem.
"It's something we've been talking to publishers about," he said.
"We talk to all content owners about this sort of thing. The best way to beat piracy is to get your content out there, to give it to people in some way or make them buy it in some simple, cheap, easy way."
Nineteen-year-old student Jubel Amin, who's studying pharmacology and physiology, says textbooks are extremely expensive.
He says he had to buy two and that they cost him in excess of £180.
"The thing is these books will last us for three years, so it is worth it in the long run," he said.
"But it's quite expensive. It took about a fifth of my student finance loan, but it's one of those things you have to do I guess."
Author Samantha Shannon, 21, is being called the next JK Rowling because of her new book, The Bone Season.
She completed her English degree earlier this year and says getting access to texts online the legal way is easy.
"It is difficult as some people really want to read the book but can't afford to, but as an author you are selling something and it's what you live on quite often," she said.
"If I wanted a bracelet in a shop I couldn't just take it."
The research has been released as the Publishers Association admitted that e-book piracy was a growing problem.
The organisation's chief executive, Richard Mollet, says it's not all the students' fault.
"We're seeing more infringement of e-books as the digital market grows," he said.
"About a quarter of all novels bought in the UK are bought as e-books, so as that digital market grows, we're bound to see a little bit of piracy alongside it.
"But I have to say, it's a very small issue compared with the sort of levels we see in film and music. E-books are nowhere near that."
Follow @BBCNewsbeat on Twitter