A&E departments diagnose one third of teenage cancer
14 October 2013

From the section

Health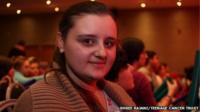 More than one third of young people with cancer are diagnosed after going to accident and emergency, according to a Teenage Cancer Trust report.
13 to 24 year-olds are three times more likely to discover they have cancer in this way.
Fay Turner-Paxton, 19, was diagnosed with Hodgkin's lymphoma at 15, after eventually going to A&E.
"I went back four times to the GP and then I wasn't diagnosed until the following year," she says.
"I went to A&E because I woke up with a lump under my arm and it was really painful and then I was struggling to breathe."
More than a quarter of young people who are diagnosed with cancer in A&E have already seen a GP about their symptoms.
The Teenage Cancer Trust also say diagnosis through A&E is associated with poorer prognosis and poorer care experience.
Around seven people aged 13 to 24 are diagnosed with cancer every day in the UK and more young people die as a result of it than any other disease.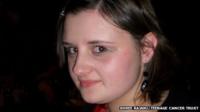 The Royal College of General Practitioners says cancer in young people is difficult to diagnose because it is very rare and many symptoms are the same as other illnesses or are things that can happen when you are not ill at all, like headaches or tiredness in the morning.
The Teenage Cancer Trust agrees, saying the symptoms young people have can often be confused with other less harmful problems like infections, sports injuries and exam stress.
Fay says: "The first time I went to my GP was about nine months before I was diagnosed because I was really tired and it was getting to the point where I was sleeping 14 hours at a time.
"I think he [the GP] probably should have been more aware and picked up the signs but then at that time I did only have one sign so it would have been easy to put it down to something else."
Siobhan Dunn, chief executive of Teenage Cancer Trust, says: "We must improve the diagnostic experience of young people with cancer.
"We must empower young people to be persistent at the doctors if they're not getting better and not wait until they have to go to A&E."
Fay adds: "I think GPs and people in general need to be more aware of the symptoms and the signs because its really important and it could save someone's life."
Follow @BBCNewsbeat on Twitter