Disclosure video taken offline for glamorising drug use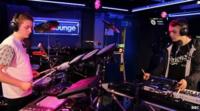 The video for Disclosure's new single Help Me Lose My Mind has been taken offline.
It follows complaints it glamorises drug use.
The song, which features London Grammar singer Hannah Reid, is currently on the Radio 1 playlist.
The record label PMR say they don't know when a new video will be available.
In a statement PMR records said: "[We] feel strongly against the glamorisation of drugs in any capacity and as such we have made the decision to remove the video."
The video for the song is for the next track released from the brothers' debut album Settle.
It originally came with a parental advisory before watching it but the record label removed it after feedback from viewers on YouTube.
The video was only online for a matter of hours before being taken down.
Online comments
PMR's statement went on to say: "The video for Disclosure's new single was revealed this morning [October 11th] and as with previous Disclosure videos, it was about the connection of people having a good time....unfortunately the video has received a few comments referencing the use of drugs within the video."
It continues: " It has not yet been clarified if, or when, a replacement video for the single will be made available."
Earlier this month Azealia Banks claimed she dropped a collaboration with the pair after they worked together on her debut album because they were "rude".
Disclosure responded that they were surprised she had talked about a collaboration before it was finished and said they'd apologised.
While in the summer Disclosure were seen playing Capital FM's Summertime Ball with their mixer unplugged.
The group said they "pleaded" with organisers to play live but were not allowed.
Disclosure are due to tour the UK in November.