X Factor judges working harder than ever - Louis Walsh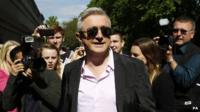 X Factor judge Louis Walsh has said this year's judges are working harder than ever before.
Walsh, who is mentoring the boys, said: "I think in the early years... we didn't have to work as hard but now we have to really properly mentor.
"We have to be on it because if anything goes wrong it's our fault and for these kids, it's their big chance."
Nicole Scherzinger, Gary Barlow and Sharon Osbourne are the other judges on the show.
Walsh, 61, said that the judges took their role seriously.
"You don't even have to win to get a record deal," he said.
"This could change the contestants' lives. If you're good on this, you get a record deal."
The talent show mentor also repeated comments saying that there are no lazy judges this year.
"Nicole, Gary and Sharon work very, very hard," he added.
"Simon [Cowell] is expecting ratings - it's all about the ratings with him and he likes to see everybody working hard."
This year's X Factor has seen the return of Sharon Osbourne to the judging panel, which Walsh says he has enjoyed.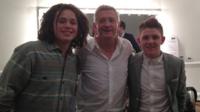 "She's fun and she made everyone else have fun," he said. "Gary is laughing. He's never laughed before."
At judges' houses, viewers saw Luke Friend, Nicholas McDonald and Sam Callahan go through to the live shows.
However, Walsh was criticised by fans on Twitter after he told contestant Paul Akister that he hadn't made his final three.
"I want him to come back next year," said Walsh.
"It happened with Alexandra Burke. She was in my judges' home. I sent her home, she came back and she won."
Unlike previous series, there is no novelty act in this year's final 12.
"I always like an act like a Wagner or Rylan [Clark]," Walsh admitted. "They are always good fun on the show.
"Everyone wants to be a bit more serious this year but I kind of love those funny acts."
Follow @BBCNewsbeat on Twitter