Robin Thicke: I don't think people got Blurred Lines
10 October 2013

From the section

Music
Robin Thicke believes his hit single Blurred Lines is being banned by "people who don't understand the song".
"I don't think people got it out here [in the UK] in those positions of power," he told Newsbeat at 1Xtra Live in Liverpool.
The singer was speaking after an advert featuring the song and models from the video was banned from daytime TV.
The 36-year-old American singer said: "I think the kids get it... I just have to deal with that."
The advert has been banned from being shown before 7.30pm by the Advertising Standards Authority (ASA).
In its ruling, the ASA acknowledged some viewers could find elements of the advert distasteful - "particularly the shots of the women's bodies with their heads obscured and the shot of the woman on all fours".
In its response, Beats Electronics International said the advert for its speakers was not intended to be offensive or encourage any inappropriate stereotypes.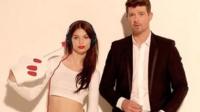 The single has been criticised with some people saying it refers to non-consensual sex in some of the song's lyrics.
But the singer has previously dismissed accusations of lyrics about rape as "ridiculous".
Speaking at 1Xtra Live Robin Thicke said: "I wrote it [Blurred Lines] about my wife."
Thicke is married to American actress Paula Patton.
Referring to the song's lyrics he added: "She's my good girl. And I know she wants it because we've been together for 20 years."
Last month, Blurred Lines was banned from being played in any of the student union buildings at the University of Edinburgh.
It has also been banned by University of Leeds' student union and several others.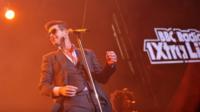 Thicke said his track, which features TI and Pharrell, is "definitely not a curse of any kind, all gifts right now" ahead of his headline show at 1Xtra Live in Liverpool.
Tinie Tempah was a special guest at the event which was the third night of 1Xtra's tour, which finishes tonight (10 October) in Leeds.
Earlier this month, it was revealed that Blurred Lines had replaced Daft Punk's Get Lucky as the UK's biggest-selling single of 2013 so far.
According to the Official Charts Company's sales data, it has sold more than 1.36 million copies to date.
"I guess that's why they're banning it," joked the singer.
Follow @BBCNewsbeat on Twitter