Kanye West to appear on Jimmy Kimmel Live after feud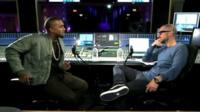 Kanye West is scheduled to appear as a guest on Jimmy Kimmel Live on Wednesday night.
It comes just under two weeks after the rapper told the American chat show host he was "out of line" to make fun of his Radio 1 interview with Zane Lowe.
The comedian recreated the video, replacing Kanye West and Zane Lowe with children.
West tweeted: "Jimmy Kimmel is out of line to try and spoof in any way the first piece of honest media in years."
Jimmy Kimmel revealed on his chat show that he had had a "very angry phone call" from Kanye West.
The rapper wrote a number of other tweets, criticising the chat show host and the sketch.
"I don't take it as a joke," he said. "You don't have scum bags hopping over fences trying to take pictures of your daughter."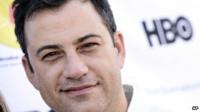 The original videos of the four-part interview have been viewed more than 2.8 million times on YouTube.
Confirming that the rapper would appear on his show, Kimmel tweeted: "Tomorrow night, my guest will be @kanyewest (for real, yes and was it all a setup, no)."
The rapper hasn't tweeted about the appearance on the show.
Arctic Monkeys have been confirmed as the music guests on the show, which airs on American network ABC.
It will be the first time the Sheffield band will play tracks from new album AM on American TV.
Follow @BBCNewsbeat on Twitter