New call for better regulation for dermal filler jabs
9 October 2013

From the section

Health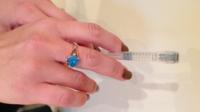 A leading plastic surgeon says it's "shameful" that regulations surrounding dermal fillers still haven't been tightened up.
It's almost six months since a government-backed review claimed fillers were the "next crisis waiting to happen".
Fillers are used to add volume to the face or smooth out lines and wrinkles.
They're part of a group of cosmetic procedures, along with Botox, known as injectables.
Mr Rajiv Grover, president of the British Association of Aesthetic Plastic Surgeons (Baaps), said almost anybody could administer them at the moment and that worried him.
"There is very little regulation about fillers, many of which we know are being used and can cause harm," he said.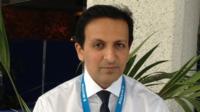 "Given that, knowing they can be harmful, I think it's shameful that nothing is being done."
In April, the Keogh review into cosmetic surgery recommended that fillers should be available only on prescription and were covered by the same level of regulation as toothbrushes.
At the moment, people need minimal training to administer them.
Mr Grover added: "I like to hope something will improve. There have been reviews before and none of the recommendations were taken up. Watch this space but don't hold your breath."
One-day courses
In a village outside Doncaster, Jim McGrath has spent the last decade teaching doctors, surgeons, nurses and beauty therapists how to administer procedures like fillers and believes the system is fine.
He offers a one-day training course to beauty therapists.
"The fillers themselves are very safe," he said. "You're not injecting into the face, you're going just beneath the skin to correct a line or a fold.
"It's not rocket science. If you can drive a car, you can easily do this.
"There is very little chance of a reaction. It's all dependant on how it's implanted. The fillers will be injected very well by all of my students because they're copying me."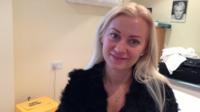 Mr McGrath taught his wife, Agnese Kruza-McGrath, who now has clients herself.
"There are higher risks of infections after tattoos and piercings," she said. "Why don't doctors want to do anything about that? Because there's no money in that."
The British Association of Dermatologists want increased regulation too.
Spokeswoman Deborah Mason said: "When things go wrong with dermal fillers, clients do not return to their beauty therapist but seek help from dermatologists. This may give the false impression that these procedures are safe to those not medically skilled to deal with or understand the risks.
"We would like to see specific training in these procedures for both medical and non-medical practitioners.
"This would by no means be a one day course but a proper training that would lead to a real understanding of both safe practice and product safety."
The cosmetic procedures industry is forecast to reach £3.6 billion by 2015.
In a statement, the Department of Health said: "The government agrees with the principles of Sir Bruce Keogh's recommendations, and we are considering the report carefully and will put our detailed response to parliament shortly."
Follow @BBCNewsbeat on Twitter