Introducing... NO CEREMONY///
8 October 2013

From the section

Music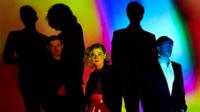 "We can't record on the road," is not something you will ever hear No Ceremony say.
In fact, the Manchester-based electro pop trio won't let a little thing like a lack of a studio get in the way.
While recently touring in Europe they had a four-day stopover at a hostel in Hamburg.
They got straight to work.
"That involved taking the mattresses off our beds and kind of lining them into a kind of cave and putting a microphone in the middle and recording," explains James.
What the other guests thought of it, we'll never know.
The result was their track Feels So Low which got the crowd at SXSW in Texas very excited indeed in March.
They were described as one of the breakout acts of the event, which showcases up and coming artists from across the globe.
In the past, No Ceremony appeared to be a mysterious bunch. For a while no-one seemed to know anything about them.
Interviewers described them as secretive and always staying on point, much like a politician.
It's a much more open and chatty Kelly and James Newsbeat meets from the band.
The two guys had known each other for a while in Manchester and then met Victoria.
Kelly says it just clicked.
"We had this shared understanding of what kind of music we wanted to make and it was all just very easy to begin with," he explains.
"We were just kind of messing around and we made Hurtlove and just put it online to get it out there."
They are very much a band of the digital age and have, by their own admission, benefitted from it.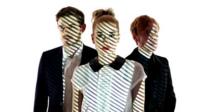 "It's quite liberating in a way to just produce a track and put it up that afternoon and get a direct response from people," says James.
Since then, their self-titled debut album has been released and they supported the Pixies at The Roundhouse as part of the iTunes festival.
And that is not the only collaboration with one of the most loved and revered rock bands in the world.
They have Pixies guitarist Joey Santiago playing on the track Heartbreaker.
"That came about because our manager was actually listening to some tracks we sent over while he was on the Pixies tour bus," explains Kelly.
"Joey poked his head round and said, 'Oh, that's really nice,' so set up an introduction there."
It was all done remotely but still, it's not bad for your debut album to have the man widely regarded as one of the best guitarists in the world guesting on it.
It is off on the road for No Ceremony for the rest of this month as they embark on a headline UK and European tour plus support slots with Foals.
Follow @BBCNewsbeat on Twitter