Amanda Holden says that life has scarred her slightly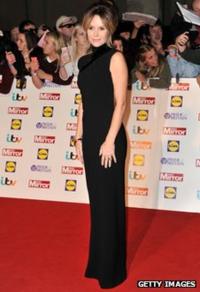 Amanda Holden says that her new autobiography, My Life: No Holding Back, is "really honest".
The Britain's Got Talent judge was responding to questions from fans at the Cheltenham Literature Festival.
Amanda Holden said she exorcised "a lot of demons" and also talked about her near-death experience after having her daughter, Hollie Rose.
The 42-year-old said she felt that life had "scarred" her slightly and because of that she takes fewer risks.
Holden spent three days in intensive care in 2012 after having her daughter by Caesarean section.
The star said it was hard reliving some of her memories.
"I think it's a cliche to say it, but you exorcise a lot of demons when you write a book," she said.
"Some bits made me really sad and some bits, you just think, 'God, I look back and I don't know how I got through some of it' and other stuff you just don't even recognise yourself from the person that you're writing about.
'Pretty fearless'
"You can't believe some of the stuff when I started writing and I would think, 'I don't know who that girl is. I don't know who she was.'
"I'm such a different person. But I think that's the whole point of growing up.
"I was a much bigger risk taker I think in the past. But life has scarred me slightly, so I think I don't take as many risks. I'm still pretty fearless."
Amanda Holden said she was also hoping to visit her grandmother before her talk at the festival in Cheltenham, as she lives there.
She was also happy to congratulate her fellow Britain's Got Talent host Alesha Dixon.
She'd tweeted that she had given birth to her first child, a daughter named Azura Sienna.
Amanda Holden said Dixon would be an "excellent" mother.
"Can you imagine what the baby looks like? With that gene pool?" she said.
"Her partner has got a nine-pack. I call him torso, he is so fit. That baby will be stunning, I can't wait to meet her."
Follow @BBCNewsbeat on Twitter