Haim say they won't have the same fall out as Oasis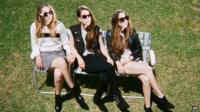 Haim say that they will never fall out like Oasis, who split up in 2009.
The group, made up sisters Este, Danielle and Alana Haim, explained that they wouldn't let disagreements and arguments get in the way of the band.
"If we were going to fall out and have our Oasis moment, it would have happened 10 years ago," Alana Haim told USA Today.
"There is really no drama. We have been playing in a band since we were, like, five."
The girls first performed with their parents in a cover band called Rockinhaim.
The Los Angeles band topped the BBC's Sound of 2013 list and have been touring through 2013, including shows at Reading and Leeds and Glastonbury festivals.
On Sunday the band performed on the Andrew Marr Show, dedicating their song to Prime Minister David Cameron.
The group also announced a UK tour earlier this week following the release of their debut album Days Are Gone.
Despite their busy schedule, the band say they rarely argue.
Alana Haim said: "The only time we ever have disagreements is when I want to borrow Danielle's leather jacket and she doesn't want to let me. That's a fight."
Follow @BBCNewsbeat on Twitter