Ed Sheeran: Santa cared for my cut hand on night out
30 September 2013

From the section

Music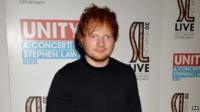 Ed Sheeran has explained how he cut his hand and ended up in hospital after a night out in the US earlier this month.
"I was in a trailer park in Tennessee called Santa's Pub and it was a karaoke caravan and there was this guy called Santa with a big white beard," he said.
The Brit-winner said he was singing and partying with friends until the bar closed in the early hours.
"I cut it drumming with beer bottles and there was a bit of glass sticking out of my hand."
The 22-year-old added: "Santa obviously sees it all the time so he just pulls it out and wraps it up and we carried on drinking which I thought would be fine until I started getting really light-headed.
"I looked down at my shoes and they were covered in blood and the floor was covered in blood."
He tweeted pictures of his bandaged hand from hospital, where he had to have stitches.
The singer-songwriter has spent much of this year on tour in the US and has three dates left to play at Madison Square Gardens before he's finished.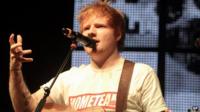 Speaking at Unity: a concert for Stephen Lawrence, he confirmed that his next focus is completing the second album but he won't be returning to the UK to do it.
"I wanted to record it in England but the producer that was doing it has a studio in Malibu that he doesn't leave, that's his sanctuary.
"I wanted to do it in Suffolk but he's not coming over from Malibu to Suffolk, sadly."
With 79 tracks to narrow down for this album, Ed said he has "chosen 12 so hopefully it will be good".
He doesn't have plans to stay in America permanently, despite his recent success over there.
"I bought a house in England and it's being done up. It was falling apart and now it's half falling apart."
Follow @BBCNewsbeat on Twitter