Miss Teen USA webcam hacker is charged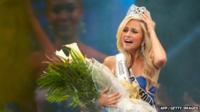 A 19-year-old student has been charged with hacking Miss Teen USA's webcam.
Jader James Abrahams is charged with trying to blackmail Cassidy Wolf into sending him nude photos.
He surrendered to FBI agents and faces up to two years in prison, said FBI spokeswoman Laura Eimiller.
Last month, Ms Wolf told NBC's Today show that she had received an anonymous email in which the sender claimed to have stolen images from the beauty queen's computer camera.
The sender of the email threatened to make the images public unless she would provide nude pictures of herself, Eimiller said.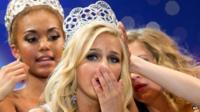 Ms Wolf, 19, was crowned Miss Teen USA in August.
Abrahams is accused of using malicious software to remotely operate webcams to get nude photos and videos of at least seven women as they changed clothes.
Some of these women he knew personally and others he found by hacking Facebook pages.
The agent who interviewed him claims that Abrahams admitted to controlling 30 to 40 hacked computers and extorting some women.
Abrahams is studying computer science at university. He is currently on bail and only allowed to use his computer, which is being monitored, for coursework.
After getting the nude pictures he would send emails threatening to post them on their hacked social media accounts unless they either sent him more nude photos, a nude video, or logged onto Skype and followed his orders for five minutes.
Court records say that one teenager in Ireland wrote back: "Please remember I'm 17. Have a heart."
They claim Abrahams responded: "I'll tell you this right now! I do not have a heart. However, I do stick to my deals. Also age doesn't mean a thing to me!"
Follow @BBCNewsbeat on Twitter