Naomi Campbell: More black and Asian models on catwalks
Naomi Campbell says more black and Asian models are being used at fashion weeks around the world.
She says she has already seen improvements since she commented earlier this month about the lack of diversity at London Fashion Week.
Along with models Iman and Bethann Hardison, she said the lack of black models on catwalks amounted to racism.
"Since myself, Iman and Bethann have spoken out, Milan [Fashion Week] was a big, big improvement," says Naomi.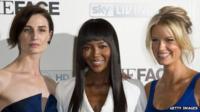 Speaking at the launch of her new model talent show, The Face, she adds: "We are looking for solutions. We're not looking to complain. We're not calling anyone racist.
"We're just saying we would like you to be aware of what's happening, that a lack of models of colour are being used and maybe if we make you aware you'll start to use them."
The organisers of London Fashion Week, the British Fashion Council, have said they do encourage diversity but that it is down to the designers to book the models they want to use.
"The British Fashion Council does not organise model castings for London Fashion Week although, as its governing body, strongly asserts that all participating designers should recognise that London is one of the most multi-cultural cities in the world and should consider reflecting this demographic at their shows and presentations."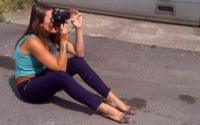 Stephanie Fittall has created her own fashion brand, Chic and Geek.
"I cast models and when I did my last catwalk I used black models and they were pretty amazing and they were really well received.
"I try and use the most diverse models and think this should be encouraged."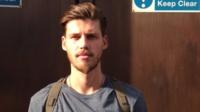 Twenty-two year old Jake Wood thinks "the fact it has been bought in to the public eye shows there may be an issue".
"It doesn't make a difference to the way I pick clothes what colour skin the model has."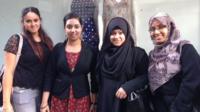 Chanpreet Walia, 18, says: "London is such a diverse area and they don't use enough of the people that live in it. They only use one certain type of person."
Her friend, Nasima Begum, 18, adds: "Sometimes in Muslim culture we are not permitted to model so that might be why there are not many Asian models, as many might be Muslim.
"It would be lovely to see different people and offer a different perspective."
Follow @BBCNewsbeat on Twitter
The Face starts on Monday 30 September, 9pm on Sky Living HD.