The NFL is suing M.I.A. over her Super Bowl show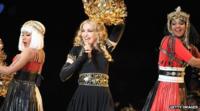 The NFL has confirmed it has instructed its lawyers to sue M.I.A. over her 2012 Super Bowl performance.
The British rapper stuck her middle finger up whilst performing with Madonna.
The NFL said it is seeking damages totalling $1.5 million (£900,000) for the gesture, which they called "offensive".
M.I.A. said she's been made a "scapegoat" by the American football league.
The NFL, which controls American football around the world, added that all the money it might get in damages would be donated to charity.
'Completely ridiculous'
At the time, US broadcaster NBC apologised for the half-time performance, which attracted a record audience for US television.
As well as the finger, M.I.A also swore during the performance of Gimme All Your Lovin' with Madonna and Nicki Minaj.
In a video posted on YouTube M.I.A. said: "The NFL thing is completely ridiculous, It's been making me laugh for a while but now it's not even making me laugh."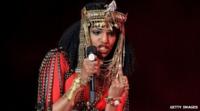 She argued the backing dancers that featured in the performance were more of a contentious issue than her gesture.
"If you look at them, they're wearing cheerleader outfits, hips thrust in the air, legs wide open in this very sexually provocative position.
"They've scapegoated me into figuring out the goalposts on what is offensive in America."
Following the show, NBC said M.I.A. did not do anything similar during rehearsals and the league had no reason to believe she would do anything during the show.
"The NFL hired the talent and produced the half-time show," said spokesman Christopher McCloskey. "Our system was late to obscure the inappropriate gesture and we apologize to our viewers.
"The obscene gesture in the performance was completely inappropriate, very disappointing and we apologize to our fans."
Follow @BBCNewsbeat on Twitter