Nirvana singer Kurt Cobain's childhood home up for sale
25 September 2013

From the section

Music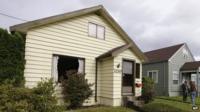 A childhood home of late Nirvana singer Kurt Cobain is going up for sale.
Cobain's mother, Wendy O'Connor, is putting the bungalow in Aberdeen, a city in the American state of Washington, on the market this week.
To help sell it, the family is offering a look into the musician's early life through photographs taken at the house.
The home, which was last valued at less than $67,000 (£42,000), is being listed for $500,000 (£313,000).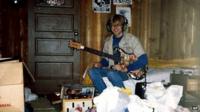 The house is near the Kurt Cobain Riverfront Park, which is dedicated to him, and his family said they would welcome a partnership to make the home into a museum.
"We've decided to sell the home to create a legacy for Kurt, and yes, there are some mixed feelings since we have all loved the home and it carries so many great memories," said his sister, Kim Cobain.
"But our family has moved on from Washington, and (we) feel it's time to let go of the home."
Cobain's parents bought the house in 1969, when Kurt was two. He lived there until they separated when he was nine, and lived there again with his mum in his teens.
The singer killed himself in April 1994, when he was aged 27.
This month marks the 20th anniversary of Nirvana's third and final studio album, In Utero.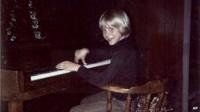 This isn't the first house to be sold on because of a link to the rock legend.
In 2002, a couple bought a home in Montesano, Washington for $42,500 (£26,600).
When they learned that Cobain had lived there with his father between the ages of 11 and 15, they sold it for $210,000 (£137,400).
Follow @BBCNewsbeat on Twitter