Kenyan terrorist attack survivor describes experience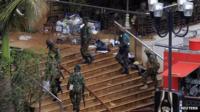 Security forces in Nairobi are defusing bombs at the Westgate shopping centre in Nairobi as they try to flush out the last of the militants who attacked the building on Saturday.
More than 170 people have been injured in four days of violence, which the Somali al-Shabab movement has claimed responsibility for.
The confirmed number of dead is now 65, six of whom are British.
Zac Yach, 18, was at the shopping centre when the attack started.
"It was just a normal weekend," he says.
"My mum, my sister and I wanted to go to lunch... half way into our meal there we felt a really strong gust of wind... and a crazy loud explosion.
Zac then describes dropping to the floor for around half an hour during "rapid gunfire" and "a lot of explosions."
He says the damage was obvious once the initial attack had died down.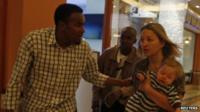 "There were two other men who were along with us. One was injured really badly he was shot on his forearm and the other one had a ricochet to his face. The bleeding was all over his head - it was really scary."
The family waited more than two hours before they were rescued.
"They (the people who found them) weren't in any kind of specific uniform just jeans and shirts and hand guns," says Zac.
"We were on the other side of the shopping centre, we just kind of signalled and whistled for them to come help us."
Zac, who had only been living in Nairobi for a month when the attack happened, says what happened hasn't properly sunk in yet.
"Even when it was happening I couldn't process what we had got ourselves into. You never really get into these things first hand. It's quite shocking"
Anisha, who is 17 and has lived in Kenya all her life, says it's normally a very peaceful place.
However, she says seeing how the Kenyan special forces have dealt with the situation has helped her feel safe again.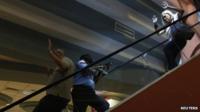 She says: "The priority there was preserving lives of all the hostages and they did manage to do the best they could within the circumstances."
John Andrews is a science teacher at the Braeburn Garden Estate School in Nairobi where Anisha and Zac study.
He says it was important to provide an atmosphere that was as normal as possible for the pupils and says grief counselling has been put in place to help those who are grieving and may have lost members of their family.
"I think it's important that we don't change what we do and don't change how you go about our daily lives otherwise that is a win for the terrorists," he says.
Follow @BBCNewsbeat on Twitter