Professor Green delays album and tour after car crash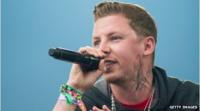 Professor Green has had to put back the dates of his upcoming tour after being in a car accident earlier this year.
The musician has had to delay finishing his album as he recovered from the crash in May, forcing him to reschedule the gigs for May 2014.
He apologised to fans in a statement.
"Everything was on schedule and then I was unfortunate enough to end up sandwiched between two cars leaving my health and album/touring schedule in absolute jeopardy," he said.
The 29-year-old added: "I want to make the best possible album I can for you all and I want you to have heard the new music so as we can all enjoy the shows how they're meant to be enjoyed.
"I could have rushed an album for the sake of making the tour but as I hope you all know I'm in this for the music and am not willing to let it suffer due to a date in the diary.
"I promise you all it'll be worth the wait, and there'll be some bits and bobs in the meantime to bridge the gap."
His Are You Getting Enough tour was originally due to take place in November.
Tickets are valid for the new dates however refunds are available from the point of purchase.
Professor Green, whose real name is Stephen Paul Manderson, recently celebrated his wedding to former Made in Chelsea star Millie Mackintosh.
Follow @BBCNewsbeat on Twitter