Fewer students taking on jobs around studying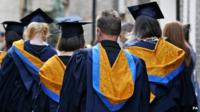 Fewer students are working while in full time education, according to new statistics.
Figures from the Office for National Statistics (ONS) suggest the number of 16 to 24-year-olds having a job while studying has fallen by eight percent in the last five years.
Just over a quarter of students now work while in college or university.
Figures also suggest the number of 16 and 17-year-olds with a part-time or Saturday job has dropped by even more.
The National Union of Students (NUS) has blamed increasing pressure on students to succeed and a lack of suitable jobs for those in full-time education for the decline.
The number of students working has been in gradual decline over the last 15 years, according to the ONS.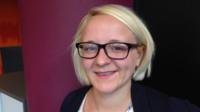 "There just isn't the demand there," says Toni Pearce, the NUS President.
"There's a huge weight of expectation placed on students in this generation.
"It's a generation of students who've been let down not just by changes in the education system, things like EMA [Education Maintenance Allowance] but also changes to the higher education system."
The Institute of Public Policy Research (IPPR), who have been looking into their own figures on student jobs, say the biggest fall is in the Saturday job category for teenagers, which has fallen 16% since 1997.
Spencer Thompson, an economic analyst at IPPR, says: "While the era of paper-rounds, shelf-stacking and washing-up is not entirely over, fewer and fewer young people are taking on a job alongside full-time education.
"This matters because experience of paid work during study has been shown to help young people adjust to the demands and expectations of the workplace, boosting their employment chances after leaving education."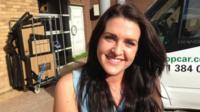 Lauren Roberts, 21, studies at Northampton University. She's got multiple jobs and thinks getting work while you study is simple.
"I found it was easy to get a job. I came back into my second year and applied for a job and managed to get it straight away."
Others believe the pressure to succeed at university or college, which now costs up to £9,000 a year in England, means students want to focus more on the studies than outside work.
Norman Rose, executive director of the Recruitment Society thinks students are working harder to get better degrees because of the competition.
"I think less employers are taking on Saturday staff because of the economic downturn, relying on those who already work part time for them."
Becky Craven agrees. She's also a student at Northampton University and works for a recruitment company on the side.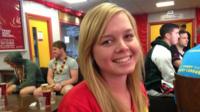 She says: "People that come to uni come for a reason and if it's something like medicine you don't have time for a job or anything."
The most recent employment figures for May to July 2013 show 960,000 young people aged 16-24 were unemployed.
That is an increase of 9,000 on the previous quarter but 57,000 lower than the previous year.
Overall, 21% of people aged 16-24 are unemployed. Meanwhile there were just over 150,000 more students in this age group in higher education in the UK in 2012 compared to 2007.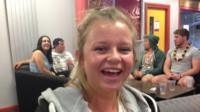 Sian Tineer is a 20-year-old economics student. "I can't be bothered to work and study," she says.
"I think most people at uni do have jobs, but I just haven't put myself out there. I probably should this year."
According to the IPPR, 75% of young people in the UK across all levels of education do not have a job, compared to almost 60% of young people in the Netherlands who are in education and employed.
Follow @BBCNewsbeat on Twitter