Wretch 32 and MistaJam pay tribute to rapper Depzman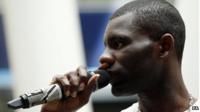 Two men have been arrested on suspicion of murdering an 18-year-old rapper who was stabbed to death after a tribute event for a knife murder victim.
Joshua Ribera, who performed under the name Depzman, was killed outside a nightclub in Selly Oak on Friday night.
Rappers including Wretch 32 and Frisco as well as Radio 1 and 1Xtra DJ MistaJam are among those who have paid tribute to Joshua.
"R.I.P depzman. A young talented MC," tweeted Wretch 32.
The stabbing happened at a fundraising event in memory of a 16-year-old, who was killed a year ago.
Frisco said: "Just heard about Depz. Sad man #RIP".
He added on Twitter: "Again, condolences to the family and friends of Depz. Never a nice thing knowing a life has been taken especially so young and talented #RIP".
More than 50, 000 people have also joined a Facebook tribute group.
One member posted: "I didn't know Depz personally, but nobody deserves to die, R.I.P man".
Radio 1 and 1xtra DJ MistaJam described Joshua as "a promising young talent".
He added: "He had a massive following. He was part of the Invasion Crew, out of Birmingham, which were gaining notoriety for all the right reasons in the grime scene.
"He recently put out his first album, all self-financed, he was very much at stage one of his career".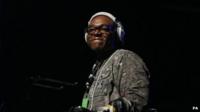 Joshua's friend JayKae told the BBC: "Everyone loved him. He was one of a kind person, you couldn't get no-one like this geezer again. A lot of people are hurting.
"People know him as Depzman and people know him as Josh. There are people who have never met him who are hurting".
Specialist DJs had been playing Depzman tracks for some time.
According to MistaJam: "It was only a matter of time before people like myself were due to start playing his music. He is one of those names people have been mentioning time and time again.
"I hope we're going to see a real out pouring of positivity from the grime scene".
Follow @BBCNewsbeat on Twitter