Who are the Somali military group al-Shabab?
24 September 2013

From the section

Politics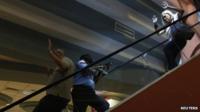 Five British people are among the 62 confirmed dead at a shopping centre in Nairobi, Kenya, with a sixth victim also thought to be British.
Security forces say they have control of all of the floors of the Westgate mall, after an attack by militants started on Saturday.
More than 170 people have been injured in the violence, which the Somali al-Shabab movement says it carried out.
Explosions and gunfire could still be heard on Tuesday morning.
Kenya's foreign minister said "two or three" Americans and a British woman were among the attackers.
Who are al-Shabab?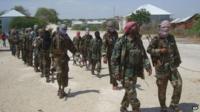 Somalia's al-Shabab movement was formed in 2006 as a youth group opposed to Ethiopian forces who entered the country to support a weak Somali government.
It has control in many rural areas of Somalia and uses a strict version of Sharia law, including stoning women to death who are accused of adultery and cutting off the hands of thieves.
Al-Shabab joined al-Qaeda in February 2012.
Who leads al-Shabab?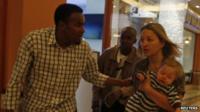 Ahmed Abdi Godane, originally from Somaliland, a breakaway area in the north, is charge of the group and is rarely seen in public.
There have been reports southerners want to challenge him for leadership, but the movement denies this.
The number of fighters is estimated to be between 7,000 and 9,000.
Who has al-Shabab attacked?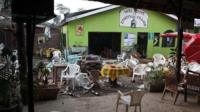 In addition to the Westgate shopping centre, al-Shabab has attacked a number of Kenyan sites in the last year alone.
In August four Kenyan police officers were shot dead close to the border with Somalia.
Since being driven out of the capital Mogadishu in 2011, they have staged frequent bombings there.
They were also responsible for a double suicide bombing in Uganda's capital, Kampala, which killed 76 people watching the 2010 football World Cup final on television.
What are al-Shabab's links with Britain?
The group use Twitter on a regular basis. Accounts claiming to be owned by al-Shabab have said British citizens were involved in the Westgate shopping centre attacks.
An al-Shabab military commander, who called himself Abu Omar, told the BBC this was not true.
In 2011, British security sources estimated around 100 UK nationals joined al-Shabab.
What is life like in Somalia?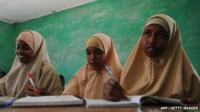 Somalia has suffered for many years from violence between different clans.
The government, led by President Hassan Sheikh Mohamud, only controls part of the country.
Many people live in refugee camps for those who have been made homeless by the war. Any aid sent by outside countries often does not reach these people.
Only four out of ten children go to school, with girls particularly left out of education.
Follow @BBCNewsbeat on Twitter