Your view: Is the Labour party fighting back?
23 September 2013

From the section

Politics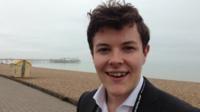 "For someone who's young and interested in politics, this is like Disneyland," says Labour activist Aled Jones, describing their annual conference.
Looking out across Brighton beach, the 20-year-old insists there are reasons for to be optimistic.
"I'm really looking forward to seeing our politicians make their case for what they want to do with this country."
The pressure is on Labour leader Ed Miliband to do just that.
Some in his party say he hasn't done enough to boost his own profile, or explain what Labour would do if it won the next election in 2015.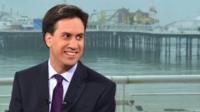 In a non-scientific survey, Newsbeat showed a picture of Ed Miliband to 10 people in Brighton.
Only five were able to name him.
"We've got a while until the next election, but Ed has a style of his own and I think people will support him when the time comes," says Aled.
What have Labour promised?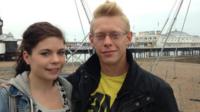 Ed Miliband says there will be "action" on the minimum wage, which he claims hasn't kept up with the rising cost of living.
But he hasn't committed to future rises.
Beth Holman, 18, is about to start university in Brighton and also earns the minimum wage at a fast food chain.
She says firms might recruit fewer people if they have to pay more: "It will be better for those already in jobs but it'll be harder for those looking because there won't be as many jobs around."
Beth's boyfriend Justin Curtis, 27, adds: "The problem with the minimum wage right now is that there's not a lot of difference between that and welfare.
"Why would you go to work if you could get the same money doing nothing? There's got to be more of an incentive to work."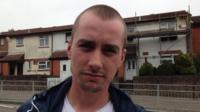 The Labour leader has also promised to scrap the spare room subsidy, known to critics as the "bedroom tax".
This is the controversial cut in benefits for people in social housing who have empty bedrooms.
Not everyone thinks it should be scrapped.
Builder Dean Coomber, 26, is hoping to get a bigger council house for his fiancee and three children.
They're currently sharing a one-bed flat on Brighton's Whitehawk estate and have been told it could be five years before they get somewhere bigger.
"I know there's lots of people round here with spare rooms who don't want to move.
"If you want a three-bedroom house, you should pay for those rooms," he says.
Follow @BBCNewsbeat on Twitter