Porn star couple call for condoms to be made compulsory
20 September 2013

From the section

Health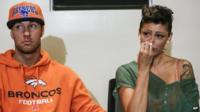 A porn star couple who were both diagnosed HIV positive have called for condoms to be compulsory in the industry.
Cameron Bay and Rod Daily became infected with the disease while working this year.
At the press conference in Hollywood, Mr Daily, 32, criticised industry bosses for failing to promote safe sex.
He said: "Ultimately, it's a business, and their main concern is money and not their performers."
The couple were among several porn stars who caught HIV this summer, which led to production being stopped at several sets in the US.
The most recent bans on filming are scheduled to end this week.
Speaking out for the first time since contracting HIV, Ms Bay, 29, added: "When something happens, it kind of falls off and you don't really mean much, except that you're a liability to them and their money making."
Industry officials say the recent infections have not been tracked back to film sets and most likely occurred through the actors' private lives.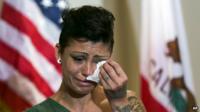 Ms Bay cried while describing her experience and said she had only spent a few months filming porn before getting the news.
"Having your agent call you and asking you that a news person wants to confirm your status is not the easiest way to find out you're HIV positive," she added.
However, she thinks many actors would struggle to find work if they asked for condoms.
"I learned there's always someone younger and sexier, willing to do something you're not," she said.
"I think we need more choices because of that. Condoms should be a choice."
Another star, Patrick Stone, also recently diagnosed with HIV, appeared alongside the couple at the event, organised by the Aids Healthcare Foundation (AHF) while a fourth actor spoke over the phone.
AHF President Michael Weinstein explained the actors' speeches may not have the impact they want.
He said: "We've got to stop taking medical advice from pornographers. We have a public health system in this country that is supposed to protect us against disease."
He did however praise their bravery saying: "Four performers stepping forward in this very heated environment - it takes an enormous amount of courage."
Follow @BBCNewsbeat on Twitter