Footballs fans react to anti-homophobia laces campaign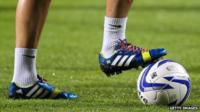 Professional footballers in England and Scotland are being asked to wear rainbow coloured laces this weekend to support a campaign against homophobia.
Gay rights charity Stonewall, have sent laces to all 92 Premier League and Football League clubs, plus the 42 professional teams in Scotland.
The charity says it wants to change attitudes to homosexuality in football.
There are no openly gay footballers in the English and Scottish professional leagues.
Players who have agreed to wear them include Everton captain Phil Jagielka, Cardiff City's Peter Odemwingie and QPR midfielder Joey Barton.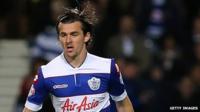 Barton says: "It's a subject that's close to my heart. It's important for a modern day footballer to speak about taboo topics.
"In the 21st Century it's crazy we're even having this conversation and yet there's still bigotry and a lot of people with closed minds on things that should be socially acceptable," he adds.
Newsbeat spoke to Chelsea fans at Stamford Bridge to get their views on the laces and whether the campaign would make any difference.
Ronnie Winterflood (left) and Stephen Green, both 25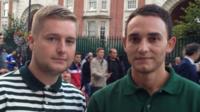 Ronnie says: "I'm not sure this will make much of a difference. If a player comes out he knows he is going to get hammered by fans at every game he plays in.
"I wouldn't have a problem if a Chelsea player came out though."
Stephen adds: "If a player for the opposing team is gay you would still probably give them a bit of stick. It's nothing personal it's just following what the crowd does.
"You're only doing it because they're on the opposite team. You've got to just take it."
Ben Woods, 26 (left), and his brother Nick, 24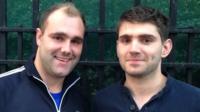 Nick says: "People see the abuse as banter but they don't realise how hurtful it is and the affect it can have on people.
"You hear homophobic abuse quite often at games and there is no need for it so this campaign is a decent start."
Ben adds: "I think it's about time this was raised as an issue. There were problems with racism years ago and there have been big improvements since then but being gay is still a taboo.
"A lot of people at football associate homosexuality with weakness when they shouldn't."
Listeners' views on Twitter
Joel says: "Wearing rainbow coloured laces wont change anything, it's not the players but the fans who are going to be the problem."
"About time, sad to see Premier clubs squirming with excuses," says Lukas.
Craig says: "I think it's a step in the right direction and great to see."
"It's a nice statement but until a football player 'comes out' it doesn't really mean anything," says Max.
Follow @BBCNewsbeat on Twitter