Introducing... Sivu
27 September 2013

From the section

Music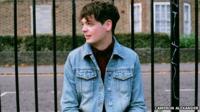 Sivu, also known as James Page, hasn't taken the most traditional route into music.
After playing at his fair share of empty pubs around St. Ives in East Anglia where he grew up he moved to London.
Since then he's worked with Alt J's producer, nearly been mistaken for Jimmy Page and sung in an MRI scanner for a music video.
"I'm not afraid to say I'm a singer-songwriter," says the 25-year-old.
"But I just don't think the record is going to sound like that."
James describes his music as alternative pop but it's understandable that Sivu has been labelled as a conventional singer-songwriter.
He writes songs alone in the studio with an acoustic guitar, he's not scared to use the word folk when talking about his music and until recently he's performed under his real name.
"Well my obviously name's James Page. I was never (known as) Jimmy Page but I did have gig once when the chalkboard outside said 'Not Jimmy Page from Led Zeppelin'," he explains.
"I didn't like the idea of being bound by a name, I like the idea of taking it somewhere else that wasn't necessarily all about me. Sivu is Finnish for Page so that's where it came from."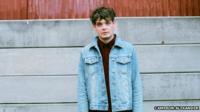 James says introducing a live band and working with Charlie Andrew, who produced Alt J's Mercury Prize winning album An Awesome Wave, helped develop his sound.
"We (James and Charlie) did Gods Speaks in Tongues, then a song called Better Man Than He. We get on really well and he helped me paint this picture of what I wanted Sivu to be," explains James.
Better Man Than He has become an online success with a video that sees James singing inside an MRI scanner.
"I always knew that when the songs were right we needed to do something special," he says.
"Better Man Than He was the first single to come online so it had to have an impact."
"It was horrible singing in there... I just kept telling myself it would be worth it."
With the video well on the way to half a million views, it would appear it was indeed "worth it".
"That's (the internet) just where people go now. The first thing they do if they like someone is go on YouTube," says James.
"There's so many artists out there now doing things and it's great that there's a platform for it but there has to be something different that stands out."
Sivu's next the single, I Lost Myself, is set for release on 21 October.
Follow @BBCNewsbeat on Twitter