James Gandolfini's final film premieres in New York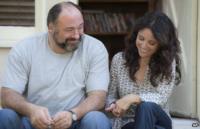 The film that includes James Gandolfini's final performances has premiered in New York.
The romantic comedy, Enough Said, stars the Sopranos actor along with Julia Louis-Dreyfus, Toni Collette and Catherine Keener.
All three actresses attended the premiere and paid tribute to Gandolfini.
He shot scenes for the film about a year before he died from a heart attack in June while on holiday in Italy.
Gandolfini and Louis-Dreyfus play divorcees with children heading off to college who meet at a party and start a relationship.
The late star plays a more sensitive character than audiences are used to seeing in The Sopranos.
"This is how great an actor Jim [Gandolfini] was," said former Seinfeld actress Julia Louis-Dreyfus.
"He was no Tony Soprano. This guy was thoughtful, generous, sweet, self-effacing guy - like the character he plays in the film."
But she says the premiere was a sombre event for her and that she remembers clearly being told about his death.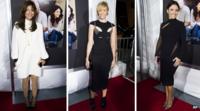 "I was driving in my car," she said. "It's real bummer. It's very bittersweet.
"I wish he was with me on this carpet at this very second."
Co-star, Toni Collette, also described the premiere as a bittersweet affair.
"I think when the experience of making a film has been so buoyant and lovely and fun, you want to celebrate that experience and share it with the world," she said.
"But also the film is dedicated to Jim. He is so divine in the movie. It will be bittersweet."
Many of Gandolfini's former co-stars from The Sopranos were at the premiere, including Edie Falco, Aida Turturro and Steven Schiripa plus the show's creator David Chase.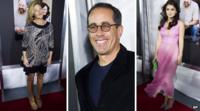 Tony Sirico, who played Paulie in the show, also remembered his friend.
"He's our pal and we're coming to pay our respects," he said. "He might be dead, technically, but he's still there with me.
"I got his pictures all over my wall. And I got a lot of years working behind him.
"Jimmy had a lot of colours. He was a great actor. He could play a tough guy, a softie.
"He played a coward in a film and that had to be a tough... but he did it. He's wonderful."
Enough Said opens on 18 October in UK cinemas.
Follow @BBCNewsbeat on Twitter