Walking Dead spin-off show confirmed by TV network AMC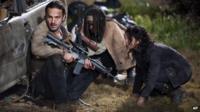 US television network AMC has confirmed that there will be a spin-off show of The Walking Dead.
The series, which returns for its fourth season next month, started in 2010 with an initial six episodes.
It stars British actor Andrew Lincoln as sheriff's deputy Rick Grimes, who wakes up from a coma to find he's living in a post-apocalyptic world dominated by flesh-eating zombies.
The so-called "companion" series has an initial target date of 2015.
Executive producer and the original comic book's writer Robert Kirkman said: "After 10 years of writing the comic book series and being so close to the debut of our fourth, I couldn't be more thrilled about getting the chance to create a new corner of The Walking Dead universe.
"The opportunity to make a show that isn't tethered by the events of the comic book, and is truly a blank page, has set my creativity racing."
Charlie Collier, AMC's president and general manager, added: "Building on the success of the most popular show on television is literally a no-brainer.
"We look forward to working with Robert [Kirkman], Gale [Anne Hurd] and Dave [Alpert] again as we develop an entirely new story and cast of characters.
"It's a big world and we can't wait to give fans another unforgettable view of the zombie apocalypse."
British actor David Morrissey is set to return as the governor after a bloody end to series three in which he battled with Rick Grimes.
Former Wire actor Larry Gilliard Jr is joining the cast as an army medic.
The Walking Dead returns to Fox on 18 October.
Follow @BBCNewsbeat on Twitter