Miley Cyrus and Liam Hemsworth end their engagement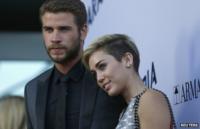 Miley Cyrus and Liam Hemsworth have called off their engagement, representatives for both stars have confirmed.
It ends months of speculation that the couple's relationship was in trouble.
Cyrus and Hemsworth were together for four years but haven't given a reason for their break-up.
Over the weekend, Cyrus stopped following Hemsworth on Twitter, which led to various reports in the media that they had split up.
Miley Cyrus first met Australian-born actor Liam Hemsworth in 2009 on the set of the film The Last Song, where the two played lovers.
The couple announced their engagement in June last year.
Former Disney Channel star Cyrus, who found fame as the lead actress in Hannah Montana, has tried to leave her teen idol image behind over the past few years.
The 20-year-old hit the headlines last month with a provocative performance with Robin Thicke at the MTV Video Music Awards ahead of her upcoming album, Bangerz.
She claimed she wanted to "make history" at the show in Brooklyn.
Speaking as part of an MTV documentary, the singer said: "What's amazing is I think now, people are still talking about it. They're over thinking it.
"You're thinking about it more than I thought about it when I did it. I didn't even think about it 'cause that's just me."
Liam Hemsworth, 23, plays one of the leading roles in teenage film franchise The Hunger Games and has also appeared in The Expendables 2 and Paranoia.
Follow @BBCNewsbeat on Twitter