Atlantis executive producer says he's ready for critics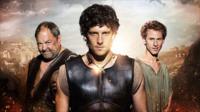 Atlantis executive producer Johnny Capps says he isn't worried about what critics will say about the show.
The programme is centred around Greek mythology and is described as an epic drama about the early lives of Pythagoras, Hercules and Jason.
Johnny oversaw the creative content of the BBC One show and teamed up with Julian Murphy and Howard Overman who he worked with on cult series Merlin.
He says Atlantis was born out of the trio's obsession with Greek mythology.
Johnny says because of his experience with Merlin he's learned a lot.
"I think that when Merlin went out in its first series it was actually panned by the critics.
"I mean there were people [who were] unbelievably rude about it. Julian [Murphy] and I were compared to monkeys with sticks."
Johnny says because Atlantis was only commissioned in January they are still filming the series as it is being broadcast.
His focus will be finishing this series and hopefully being commissioned for a second.
"It's not necessarily about what the reviewers said.
"I mean obviously you want the reviewers to like it and you want it to be pick of the day. But at the end of the day, it's about what the audience like and Merlin took a while.
"You know the first series did very well against The X Factor and in seasons two and three it got into its stride and I think it takes a while to get into people's consciousness and to like it and I think that's the great thing about the BBC, is it sticks with shows."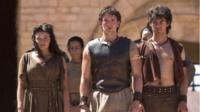 The Atlantis cast also includes Juliet Stevenson, from The Hour, Sarah Parish who appears in Mistresses and Robert Emms from War Horse.
Johnny Capps says the BBC is another critic they have to win over.
"I mean look at Luther, it didn't do very well, second season it did amazingly well. And you know, they've [the BBC] got the guts to stick behind product and shows that they believe in and I think, you know hopefully they'll feel the same about Atlantis."
Atlantis starts on BBC One on 28 September at 8.25pm
Follow @BBCNewsbeat on Twitter