Nicole Kidman hit by cyclist at New York fashion week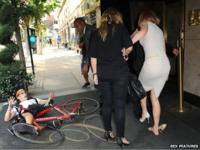 Nicole Kidman has been knocked over by a cyclist after attending a catwalk show at New York fashion week.
The actress was on the way back to her hotel from Calvin Klein's spring 2014 show when she was hit by photographer Carl Wu.
"I'm up, I'm walking around but I was shaken," Kidman told reporters after the incident.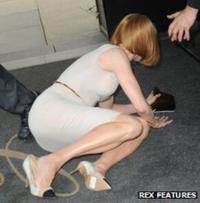 When asked if she would press charges, the 46-year-old said: "I've left that up to the police."
The New York Police Department says it has issued warnings to a 19-year-old cyclist for riding a bike on the pavement, riding a bike with no helmet and reckless endangerment.
It's not the first time Wu has had a run-in with a celebrity.
In 2010 the photographer narrowly missed being run over when he ran down the parking ramp at a hotel in Boston to try to get a picture of Lady Gaga.
Pharrell Williams was among the other guests at the fashion show.
Kidman later appeared on the red carpet at Francisco Costa's 10th anniversary celebration as the women's creative director of the Calvin Klein Collection.
The actress is set to appear in the Anchorman: The Legend Continues which is due to be released later this year.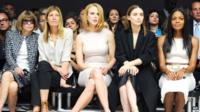 She has also appeared in The Golden Compass, Bewitched and Eyes Wide Shut.
The Australian is married to American Idol judge and country music star, Keith Urban. The pair have two daughters, Sunday and Faith.
She divorced Tom Cruise in 2001 after 11 years together. They met on the set of Days of Thunder in 1989.
Follow @BBCNewsbeat on Twitter