Insidious director: I'm finished with horror genre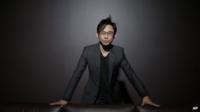 James Wan says he won't be making any more horror films.
The director, known for making Saw and The Conjuring, claims he has no plans to return to the genre after the release of Insidious: Chapter 2.
Wan, 36, says: "I'm going to go on record and say I am finished with the horror genre. Conjuring and Insidious 2 are my two last scary movies.
"I spent the last 10 years of my life doing this. It's time for a change, for goodness sake."
The Conjuring is Wan's most successful release having made $135 million (£85.5m) at the US box office.
The Australian film-maker was also the executive producer of several of the Saw films.
The series is one of the most successful horror franchises ever released.
Wan told Moviefone that he wanted to be able to work in different genres.
"If you do a successful comedy, then you're known as the comedy guy," he explained. "If you do a successful car chase movie, then you become that guy.
"I'm a student of cinema, so I just want to make sure I get the chance to make other kinds of films."
Wan has already made his first move away from horror films by starting work on Fast & Furious 7.
The film, which Wan is directing, is scheduled for release in 2014.
Follow @BBCNewsbeat on Twitter