Creators of viral hit The Fox find success 'strange'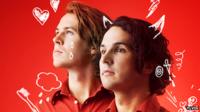 The duo behind online video The Fox say they never intended for their song to go viral.
The video, which features two brothers dancing in a fox costume, has had more than 20 million views.
It's been made by Norwegian TV presenters Bard and Vegard Ylvisaker, known professionally as Ylvis.
It was produced as an item for their comedy talk show but has now been shared worldwide and has entered the US Hot 100 singles chart in America.
"Immediately when we put it up, the first comments on YouTube said, 'This is the new Gangnam (Style), this is the new viral.' It was like people sensed it right away and we didn't."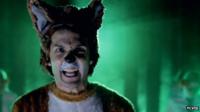 The brothers were already well known in their home country, where they've just started the third series of I Kveld Med Ylvis (Tonight with Ylvis).
As part of the programme, they make comedy music videos.
The Fox was recorded after they got the chance to work with New York-based producers Stargate.
The team, also from Norway, are famed for their work on hit singles by Rihanna, Beyonce and Katy Perry.
"This whole idea was the opposite of what has happened," admitted Vegard.
"We thought, to make this funny, we should do a song where we misuse Stargate's talent so we'd come back to our show and say, 'This is all we could come up with - a stupid song about a fox'."
But according to Billboard's Hot 100 chart, the video has also been shared more than 71,000 times across various social media platforms.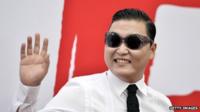 The brothers have had requests to appear on high-profile US chat shows such as Ellen and Jimmy Kimmel but have turned the offers down for the time being due to commitments with their own shows.
"We just made a funny three-minute video meant for a Norwegian talk show. Everything that comes out more than that is a bonus."
The Fox is being compared to the success of South Korean pop star Psy's Gangnam Style which has had more than a billion YouTube views.
They insist the comparison is a compliment but a "bit far-fetched".
Bard said: "I did some calculations and I told people that with the momentum we have today, if we maintain that, we will catch up with Gangnam Style in six years."
Follow @BBCNewsbeat on Twitter