Life sentence prisoner: You don't have that many checks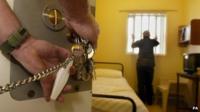 Some of the most dangerous prisoners in England and Wales are not being properly risk-assessed before they are freed, a report has found.
Probation and prison inspectors said two thirds of the preparations they'd seen for the release of lifers weren't good enough.
They say they were "shocked" by the poor standard of the assessments.
However, their research also found reoffending rates for lifers are relatively low.
The Government says it's setting up a new national probation service, to assess risk and supervise the worst offenders.
The Probation and prison inspectors' report said those serving life sentences rarely spend their whole life behind bars and can apply for release on parole after serving their minimum term.
Ahmed, not his real name, was 19 when he was given a life sentence for murder.
He spent more than 16 years in prison and was released on parole in 2011 and has spoken to the BBC about his experience.
Psychological side
Ahmed wasn't granted parole first time around.
"It's never that easy (to get parole) it was quite hard actually," he said.
"It's not really a process that you go through very quickly, it takes many years. It's all done automatically, paperwork, psychology interviews, courses, collation of security reports."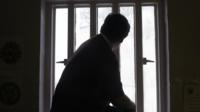 Ahmed explained that one of the hardest parts of his sentence was not knowing how long it would last.
"The most difficult part for someone who's going through that process is the psychological side of it, thinking about it constantly and worrying about it... and you're doing that for years."
He said his experience felt vigorous but added: "You don't really go through that many checks."
Ahmed thinks that's a good thing though.
"They just let you get on with it and they watch you," he says.
"You can ask all sort of questions, but end of the day, what it comes down to is what I, as an individual, am going through."
Ahmed's now in work but says he's still monitored "very strictly". At first he had to see his parole officer every week, but now it's once a month.
He says his officer is supportive and helpful and has helped him achieve a good life balance, but thinks "not all lifers are the same".
Follow @BBCNewsbeat on Twitter