GCHQ launches online code breaking competition for jobs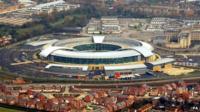 The British government's intelligence agency has opened an online competition to attract potential new recruits.
The Government Communication Headquarters (GCHQ) has launched a website showing a series of jumbled letters.
It is offering potential jobs for people who can break the code.
GCHQ recently denied requesting information from the US National Security Agency's Prism programme.
The agency is based in Cheltenham and provides intelligence for the government to help national security.
Reports earlier this year suggested US intelligence agencies had direct access to the servers of nine firms including Google, Microsoft, Facebook, Yahoo, Skype and Apple through the Prism programme.
It was suggested that GCHQ had been able to see user communications data from the American internet companies, because it had access to Prism.
Those who crack the code could be offered a full-time position after a further interview process,
Jane Jones, head of resourcing at GCHQ, explained: "The 21st century is confronting us with online threats, so we want employees who have evolved with the digital world and therefore have the right skills to combat these challenges.
"It's a puzzle but it's also a serious test - the jobs on offer here are vital to protecting national security."
The initial code holds five answers and is designed to lead people to an "online treasure hunt" around the internet, where they will have six weeks to find the so-called "final answer".
A similar scheme last year known as Can You Crack It? saw around 3.2 million people trying to make sense of the codes.
Only 170 participants were considered for roles within the intelligence agencies.
Follow @BBCNewsbeat on Twitter