Emily Blunt and John Krasinski expecting first child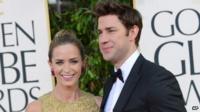 Emily Blunt has announced she is expecting her first child with her husband, the actor John Krasinski.
A representative for the actress confirmed her pregnancy.
The 30-year-old is best known for her roles in films The Devil Wears Prada, The Five-Year Engagement and The Adjustment Bureau.
John Krasinski, 33, rose to fame in the US version of The Office playing paper salesman Jim Halpert alongside Steve Carell and Rainn Wilson.
The series came to an end earlier this year after nine series.
Based originally on Ricky Gervais's BBC comedy, the US adaptation became a success in its own right, developing new storylines and characters.
Emily Blunt's next film will be Edge Of Tomorrow, starring Tom Cruise, while John Krasinski is due to voice a character in the animated film The Prophet.
The pair married in 2010.
Follow @BBCNewsbeat on Twitter