New Jurassic Park film gets name and 2015 release date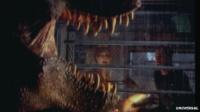 Universal Pictures have announced the next Jurassic Park film will be called Jurassic World.
The studio also added the series' fourth instalment is set for a 12 June 2015 release, nearly a year later than previously stated.
Colin Trevorrow will direct the film, with Steven Spielberg being the producer.
The franchise has grossed $1.9 billion (£1.2bn) at the box office worldwide since the first film was released.
The Jurassic Park trilogy, which first hit screens in 1993, remains one of the most successful movie franchises of all time.
The first two films were directed by Steven Spielberg. Jurassic Park III, directed by Joe Johnston, was released in 2001.
Earlier this year, Universal said the release date of Jurassic Park 4 had been put on hold to give "the studio and filmmakers adequate time to bring audiences the best possible version" of the next instalment.
The film had been due for release in cinemas on 13 June 2014.
As yet, there is no news on the cast of Jurassic World.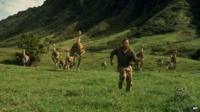 Last month Trevorrow said that directing the film wasn't just a "pay cheque" job.
Speaking to the Jurassic Park Forever blog he said: "I think it's important to make a movie for the fans. But I also have to remember that there's a lot of people who just couldn't care less.
"For us I think it's about recreating a feeling you had...in 1993.
"I feel like all I can do is make something that's honest and put a little bit of my soul into it."
The director was careful not to reveal too much about the film but he did hint that it could feature a dinosaur that hasn't been seen in the series before.
"We have a new one [dinosaur] that's pretty cool. I'm not going to tell you anything about it," he said.
Follow @BBCNewsbeat on Twitter