Your view: High street shop vacancies 'stubbornly high'
10 September 2013

From the section

Politics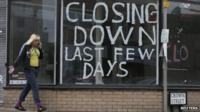 The number of empty shops on the High Street has stayed "stubbornly high", according to a new report.
The Local Data Company said the average vacancy rate in 650 centres was 14.1%.
Wales was the country worst affected, with 17.5% of shops standing empty, while Blackburn was the worst of the large centres with a vacancy rate of 26.9%
The least affected area in Britain was Cambridge, where just 7% of High Street shops are vacant.
"Since August 2010 the national average has been above 14%, with a significant number being 'long-term sick' with little or no prospect of reoccupation as shops," said Matthew Hopkinson, director of the Local Data Company.
Many shops were being converted to things like restaurants, bars, cafes and betting shops.
Last week retail expert and TV presenter Mary Portas told MPs she had "taken a battering" from critics for attempts to revive High Street shops.
Newsbeat listeners have been describing what their local town centres are like.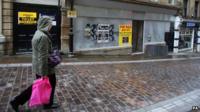 Keith Bellamy
"I live in Grantham and all we have is foreign supermarkets or pubs.
"I have to travel 40 miles to actually buy some clothes. I think the internet is to blame and not the recession."
Michael Hewitt
"We have just had a brand new city centre shopping quarter open in Leeds that has brought some high-value brands to the city for the first time.
"Come to Leeds today and you'd have no clue that the country has been in recession - go a few miles out to Bradford or Wakefield and you'd think that we'll never get out of recession."
Emma Martin
"Although I think high rates are a major cause of shops standing empty, I also think it has a lot to do with the way people work these days.
"If you don't work or are on low income then you cant afford to pay shop prices and will shop around on the internet for cheaper deals.
"If, like me, you work 8.30-5.30 or longer then most of the town centre shops are shut when you have time to visit them."
Jamie Barker
"Everywhere you go it's the same thing. Cash converters, bookies, Wetherspoons and pound shops,"
Joey Collins
"On the Isle of Wight the bus prices are so high it doesn't pay to shop in town.
"Ordering online and paying for delivery works out much cheaper."
Follow @BBCNewsbeat on Twitter