Wretch 32 warns of dangers of trespassing on railways
Rapper Wretch 32 says he's shocked by the number of people killed whilst trespassing on railway tracks.
The musician is fronting a new campaign warning of the dangers.
He tried out a simulator game, called Track Tests, built by Network Rail in east London and Newsbeat was given exclusive behind-the-scenes access.
Designers reproduced railway track sounds, hoping to prove it's harder to identify the direction and speed of an oncoming train than most people think.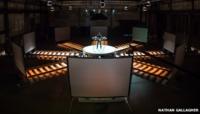 Forty-one people were killed after trespassing on railway lines last year, according to latest figures. Since 2008 270 people have died and 40% of them were young men aged 16-24.
A survey by Network Rail suggests a third of people think they would hear a train in time to move out of the way. This increases to more than half of 16-24 year old men.
Authorities warn "this just isn't the case".
Wretch 32, who grew up in north London admitted: "I did skip across tracks and didn't think it was dangerous. You'd just assume you'd make it in time."
He added: "If you look at the statistics and understanding how many people are being hit by trains, it's ridiculous."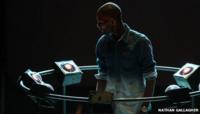 A video of Track Tests shows Wretch 32, and spoken word performer George the Poet, battling to make a split second decision, relying only on their hearing to work out which direction a train is coming from as it travels "towards" them at 80mph in the dark.
The artists stand in the warehouse where a mocked-up railway has been built.
Sound engineers created a complex surround-sound system to recreate the noise of an approaching train with other distracting noises such as wind and traffic.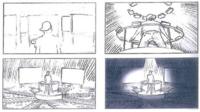 Robin Gisby, Network Rail's managing director of network operations, said: "The sound of a train approaching is much quieter than you would imagine with the wheels pushing noise out sideways rather than forwards and sound reflecting off buildings and embankments distorting what you hear."
Wretch 32 said he failed to guess which direction the train was approaching from more times than he beat the game.
"I have 97% hearing, which is apparently great for someone my age. It's only a few weeks ago since I got them checked."
Network Rail told Newsbeat accidents happen at stations where passengers think they have time to cross the tracks rather than using foot bridges.
They also warned when people are drunk they take short cuts home by trespassing on railways.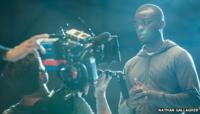 George the Poet, who is also backing the campaign, said the simulator was "really effective".
"It was explained to me that that sound does all sorts of crazy things, the sound splits up, so it's really quite hard to figure out where it's coming from."
PC users can try Track Tests for themselves here.
Follow @BBCNewsbeat on Twitter