Voice winner Andrea Bagley discusses new album
10 September 2013

From the section

Music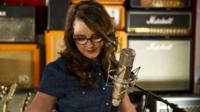 The Voice winner Andrea Begley has told Newsbeat she wants people to judge her album only once they've heard it.
It's after the 27-year-old announced the release of her debut album, The Message, last week.
Last year's winner, Leanne Mitchell's debut record only reached number 134 in the album charts, but Andrea says she has worked hard on her record.
She added that it is made up from original material she has written and covers she performed on The Voice.
"I think it was important for me that the album went out this side of Christmas really, because obviously I think the longer you leave it, sometimes you know it's important to keep that momentum going from winning the show.
"So I think we've achieved that having the album launch in October. I think it's struck the right balance between enough time to work on it properly but not leaving it too long".
The singer went on to talk about how she wants listeners to make their mind up about the album once they've heard it.
"I think, for me, the album has to be judged in it's own right and obviously I'm a different person to Leanne (Mitchell) and a different winner.
"And I think I'm happy with the album and I think it shows a lot of different flavours of what I am as an artist, in terms of original material and covers.
"So hopefully the public will buy into that and and they'll enjoy it as much as I've enjoyed doing it."
Andrea also wanted to put straight how she feels about coach will.i.am.
It's after the coach tweeted his disappointment that his competing act Leah McFall didn't win the TV talent show on Saturday night.
"Oh will.i.am, yeah, of course I love will.i.am. I've always been a fan and I've absolutely no hard feelings with the tweet or nothing like that."
The Message is out 21 October
Follow @BBCNewsbeat on Twitter