Downton cast take Paul Giamatti clubbing in Reading
The cast of Downton Abbey have revealed they took Hollywood actor Paul Giamatti to a Reading nightclub.
Allen Leech, who plays former chauffeur Tom Branson in the ITV series, said they took him after he asked them for a traditional British night out.
Oscar-nominated actor Giamatti stars in Downton as the brother of Lady Grantham.
Allen explained the evening started off innocently enough with the cast having dinner.
"Then we ended up in a Reading nightclub called Q. We were out quite late, we'd gone to dinner and [Paul] was like, 'Oh should we go for another drink?' Yeah, we'll go for another drink.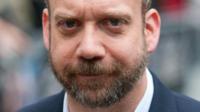 "We went up to this place and you could see people going, 'am I just really drunk or is Paul Giamatti over there?'
"This one guy just kept hugging him and we were on the dance floor and this guy just kept hugging him, and he turned to me and said: 'Big fan, big fan'.
"He was really cool and I think he enjoyed the night. We were all on set the next day, except for Paul - had the latest call the next day.
"We were clever enough, we knew what we were doing. The girls [had] 5am pick ups, silly, silly, silly."
Actress Michelle Dockery who plays Lady Mary Crawley in the series said even though a number of Hollywood stars had joined the cast, not much has changed on set.
"It's really enjoyable, the awards season of course, but when it comes to the show it hasn't really changed.
"It's just like doing series one in many ways. You just go back to doing the work."
Downton Abbey series 4 starts on ITV on Sunday 22 September.
Follow @BBCNewsbeat on Twitter