The 10 acts set to receive Arts Council funding named
10 September 2013

From the section

Music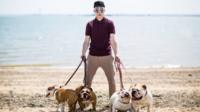 The 10 emerging artists to receive money from the Momentum Music Fund have been announced.
Among the list are alt-pop duo Thumpers, indie rock band Dutch Uncles and electronic singer and producer Brolin.
They were chosen from 500 applications and had to submit a business plan on how they would spend the money.
The Momentum Music Fund is a joint venture between PRS for Music Foundation and the Arts Council.
The idea is to support artists who have the potential to breakthrough in the next two years.
They are given between £5,000 and £15,000 to spend on touring, equipment or releasing new material.
Vanessa Reed from PRS for Music told Newsbeat they were surprised by the amount of applications.
"It told us the need for seed funding amongst emerging artists is really strong," she said.
"We know that labels, publishers, managers are still investing huge amounts of money in artists.
"But there is still a huge amount of pressure on artists to make themselves market ready."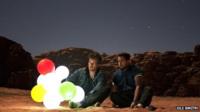 One of the successful applicants Brolin, received the funding to release his next EP and invest in a UK tour.
"When you're paying for the mastering and the recording and paying people to do the photography and film music videos," he explained.
"Even though they are doing it for the love, it's good to have a budget to pay them rather than beg, borrowing and stealing."
He says it's difficult for artists like him, who aren't considered mainstream, to get funding.
"Record labels and publishers are becoming more and more hesitant to invest on things that aren't already breaking," he says.
"Or to invest in things that might not recoup with immediate effect."
The industry's keen to point out that recorded music is an investment-intensive business.
They say money going into A&R has actually increased, with 16% of revenues spent on new artists.
But Brolin fears there are lots of emerging artists not getting the opportunities.
"There's so much music coming out that it sometimes saturates the market so therefore, some really great things can slip through the net."
If you are interested in applying for funding for the Momentum Music Fund then you can register here .
Follow @BBCNewsbeat on Twitter