One Direction fans tweet death threats to footballer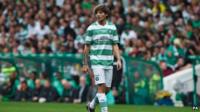 One Direction fans have sent death threats to a premier league footballer on Twitter.
Tweets were directed at Gabby Agbonlahor after he injured Louis Tomlinson during a charity football match.
The pair were playing in a game set up by Stiliyan Petrov at Celtic Park when the 26-year-old forward tackled the singer.
Louis hobbled off the pitch and was sick on the sidelines.
1D fans then took to Twitter to send Agbonlahor abuse and threats.
"This guy hurt Louis knee. I shall hurt your face. I better hear that you apologized or I will find you, and I will kill you," read one of the messages.
Another fan tweeted: "Don't ever touch Louis again who the hell do you think you are?"
The messages were sent to an un-authenticated account.
In response to the challenge Agbonlahor said, "It was one of those things, I'll apologise to Louis when we meet up."
"I know he enjoyed playing in the game and it's fantastic that he took time out to be here."
The match, which was in aid of Stiliyan Petrov's foundation, was played in front of a 60,000 sell-out crowd.
The former Bulgarian international set it up after retiring from the game following a year-long battle with leukaemia.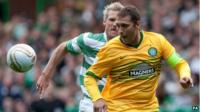 Professionals, former players and celebrities turned up to play for Petrov's XI or the Celtic Legends XI.
Other celebrities included comedian John Bishop and Westlife singer Nicky Byrne.
Kenny Dalglish and Martin O'Neill were respective managers for the game.
Petrov's team won 5-3, with Dimitar Berbatov scoring a hat-trick for the side.
Henrik Larsson scored for the hosts, while Jamie Redknapp, John Terry and Robert Pires were among other players to feature in the match.
Follow @BBCNewsbeat on Twitter