Kyle Walker apologises for taking legal high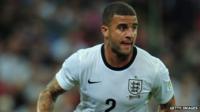 England defender Kyle Walker has apologised after a photograph emerged showing him taking a legal high on a night out in Sheffield.
It's claimed he inhaled nitrous oxide from a balloon, when out with friends over the summer.
The 23-year-old is in the England squad for their World Cup qualifier against Ukraine on Tuesday.
He tweeted, "Now I know the health risks, it was poor judgement on my part."
Nitrous oxide, which is nicknamed 'laughing gas' is a legal high but is potentially a lethal drug.
It's claimed Walker was seen inhaling from a black balloon several times during the evening and that the balloon contained the gas.
Nitrous oxide is known to give a feeling of intense euphoria but unconsciousness or death from lack of oxygen can occur when using it.
The gas can also cause strokes, seizures, blackouts and stress on the heart.
Walker added: "I won't be doing this again and hope that no one else is influenced into putting their health at risk by my actions."
He won't face any disciplinary action by the FA.
The Tottenham Hotspur defender was named the Professional Footballers' Association Young Player of the Year for the 2011-12 season.
Follow @BBCNewsbeat on Twitter