Jason Derulo says he's 'taking a risk' on his new album
11 September 2013

From the section

Music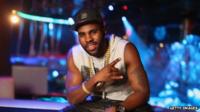 Jason Derulo says he is "taking a risk" with his new album Tattoos which is released on 24 September.
The American R&B singer/songwriter has been away for two years after breaking his neck during a rehearsal.
"I'm feeling more excited than anything, I'm coming off a crazy experience," he told Newsbeat.
"A life threatening experience like that just kind of changes your perspective on life and I'm just more excited than anything."
He says he didn't really know what to expect when he injured himself back in January 2012 but came back confident.
Rollercoaster ride
"I think people are already surprised by the material they are hearing," he said.
"Talk Dirty is not something I would have put out in the past, it's a totally different side of me.
"The album will continue to do that and surprise and shock."
He admits it is risky to veer away from what your fans know and love but thinks they end up being the best albums.
"I just wanted to have something that was a rollercoaster ride, this album is definitely one of those that will take you on a crazy journey," he said.
"It's a lot more grown up and it shows all my different dimensions and where I have come from and it displays who I am as a person.
"Taking a risk? Yeah, and I think those are the best records, the ones that just step out of the box a little bit and take chances."
He recently spent an hour with US President Barack Obama, who wants Derulo to help with the issue of health care in America.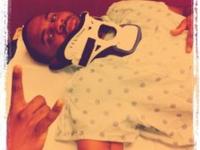 "In America, it's a little different, healthcare is not free to everyone and his dream is for everyone to have healthcare," he explained.
"We had a long conversation and he told me about his mother and her struggle and I told him about my neck injury so yeah I'm going to help out."
He says while he is by no means a politician, he realises he can reach the youth of America more easily than any politician can.
"It's a huge challenge and I guess it has to start from somewhere and people are a little scared of change so it's going to be a tough road but I think he'll do it," he said.
As to whether Obama will now feature on a Jason Derulo track following their recent meeting, he's keeping quiet.
"Hear Obama do a little rap? I don't know about that, can I even say that?" he laughed.
Jason Derulo's third album Tattoos is released on 24 September.
Follow @BBCNewsbeat on Twitter