Newsbeat listeners' strangest interview experiences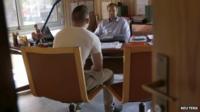 A university graduate says he was left humiliated after being asked to dance to a Daft Punk song during a job interview at an electronics superstore.
Alan Bacon, 21, thought working at Currys in Cardiff would be ideal given his love of cameras, and he spent a week preparing for the interview.
But instead of describing his skills, he ended up doing robotic-style dancing "like a scene out of [BBC TV comedy] The Office".
Currys has since apologised.
Some Newsbeat listeners have told us what they think about Alan's experience.
Darren Amos
"Perhaps they were expecting him to show some backbone by refusing on the basis it was not a professional way to conduct an interview."
Nathan Saleh
"Firstly, nobody made him do anything. He chose to carry out the interviewers request and now looks like an idiot for doing so.
"He should have left the interview and made a complaint."
Glen Cairns
"He should've refused. But he obviously wanted the job. Therefore went along with it.
"The interviewer should be reprimanded for inappropriate behaviour. As it's not company procedure. Nobody should be made to feel humiliated in any way, shape or form."
However, some people have had similar experiences to Alan. Other listeners have been talking about their strangest job interviews.
Chris Cain
"I once got asked to dance like a chicken as if I was auditioning for a play, tell a joke, sell an invisible ashtray and sing a song all to a guy who never cracked a smile... I got the job but politely declined."
Craig Green
"An interview at a recruitment agency, in an overly hot and congested fourth floor office, I got made to roar like a Lion," he said.
Albert Dixon
"I had to sing my 'favourite' song in an interview once. As I didn't really have a favourite song I just went with the last one I heard, Be My Baby by The Ronettes. Didn't get the job."
Racha Khan
Racha posted on Newsbeat's Facebook page: "I was once asked to bring a "talent" for my "audition" for a waitressing job at.
"I'm pretty talentless so I ended up doing stand up comedy. I didn't get the job. Surprisingly enough..."
Follow @BBCNewsbeat on Twitter