Scarlett Johansson gets engaged to Romain Dauriac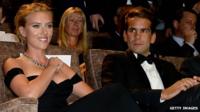 American actress Scarlett Johansson is engaged.
The 28-year-old Avengers star is set to tie the knot with independent advertising agency owner Romain Dauriac.
There is no official date planned for the couple's wedding, it is believed that the proposal was made a month ago.
Johansson previously said she rarely thought about marrying again due to her divorce from ex-husband Ryan Reynolds in December 2010.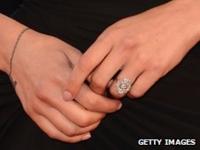 Talking about the split in an interview with Vogue magazine she said: "It was devastating. It really throws you. You think that your life is going to be one way, and then, for various reasons or whatever, it doesn't work out."
In February, the actress dismissed reports that she was engaged to Dauriac.
The announcement comes as the couple are in Italy promoting Scarlett's new film, Under The Skin, at the 70th Annual Venice International Film Festival.
In the film, which is loosely based on a book by Michel Faber, Johansson plays an alien sent to earth in human form to seduce and destroy men.
The actress was seen wearing a vintage engagement ring on the red carpet of the film's premiere earlier this week.
Follow @BBCNewsbeat on Twitter