Michael Eavis: This year's Glastonbury is unbeatable
4 September 2013

From the section

Music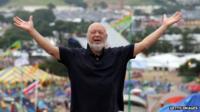 Michael Eavis, the man in charge of Glastonbury, says they won't beat this year's festival.
The Rolling Stones, Arctic Monkeys and Mumford and Sons headlined the event at Worthy Farm this summer.
"I don't believe that we can top what we did this year, the weather was perfect," Eavis said.
"The Stones were absolutely brilliant, all the other stuff we're doing in the southeast corner was absolutely fantastic."
He added: "[It's] downhill all the way now. I've had 44 years of an incredible career and we're still milking the old cows as well."
Attention now turns to who will headline Glastonbury Festival in 2014.
Eavis said he already had them booked and that people probably wouldn't be surprised.
"Pretty obvious isn't it?" he said. "There aren't many left. It's the process of elimination isn't it?
"I think we've got three or four really good ones lined up for next year and we're sorting out 2015 as well."
He said his daughter and co-festival organiser Emily Eavis was booking the rest of the acts.
"I take the liberty of booking the headliners myself," he laughed.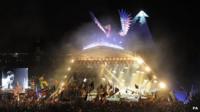 There is speculation about who will take those three spots at Worthy Farm in 2014.
David Bowie is one of the bookies' favourites as is an Oasis reunion and the Foo Fighters.
"We've got a shopping list of what we want and there's about 20 bands on there we would like to play still after all these years," he explained.
Eavis suggested that the bands would not have headlined the festival before.
"Bowie's done it a couple of times before, some of the bands out there have never done Glastonbury yet."
He admitted while he was excited about 2014, it wouldn't stop Glastonbury 2013 being his favourite.
"I'm not going to say we can do it better 'cause we can't, that was the ultimate festival this year," he said.
"[It was] absolutely fantastic, 2013 was the year that will never never be beaten."
Tickets for Glastonbury 2014 will go on sale in October.
Follow @BBCNewsbeat on Twitter