Daniel Radcliffe fans in Venice film festival 'stampede'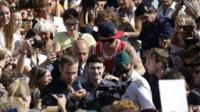 Daniel Radcliffe says the screaming people chasing after him at Venice film festival are "funny".
Fans pushed past bodyguards and police and made their way into a toilet he was in but the Harry Potter star says he doesn't let the attention bother him.
"Thankfully, it's not always like this," he told press in Venice, as a crowd outside thumped on the walls and rattled the windows trying to get in.
"I've been dealing with it in various ways since I was 11."
The 24-year-old also said he did not find the excited teenagers intimidating.
"I don't take it seriously, actually I think it's funny,"
Daniel, who played the boy wizard throughout his own teenage years, is at the film festival to promote his new movie Kill Your Darlings.
In the film, about the Beat Generation poets, he plays a young Allen Ginsberg.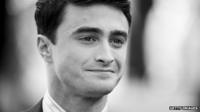 The actor said he thought fans would enjoy the movie, which looks at issues including drug use and homosexuality.
"I love poetry and it was fantastic to get the part and have the opportunity to dive into Ginsberg's life," he said.
"The diaries he made when he was young gave me an amazing insight into his character.
"I'm incredibly grateful for the swirl of support behind me. My fans seem excited by the unconventional path I am taking."
Follow @BBCNewsbeat on Twitter