Introducing... Capital Cities
11 September 2013

From the section

Music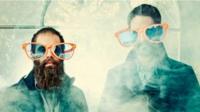 For the track which introduced Capital Cities to America, the duo needed to dance.
"It was a blast," says Sebu Simonian, one half of this indie pop pairing, about the video for Safe and Sound.
"We worked with a choreographer named Mandy Moore, not the singer," he exclaims.
"She has done some big things, like So You Think You Can Dance and she choreographed the movie Silver Linings Playbook."
So they were in good hands as they clearly needed to be, the entire video is like one big journey through different eras of dance.
"She was a really fun person to work with and taught us all kind of dances from different decades," explains Ryan Merchant, "including the Charleston and some '90s hip hop movements. We tried to incorporate that alongside 60 other dancers.
"It was such a fun day in this historic Los Angeles theatre."
An historic day that turned into a top ten hit for the duo in America.
The pair met on Craigslist, a popular classified advertising site in the US. They bonded over the type of music they liked and wanted to do.
"The good pop songs of the '80s that are also interesting," says Ryan.
"They get quirky and experimental and innovative in their melodic sensibilities and chord progressions and sounds that they use.
"So I think that is what we were aiming for. Simple pretty pop songs but also make it interesting with juxtaposing lyrical ideas."
Safe and Sound is a catchy synth drenched pop tune but Ryan says it's not the synth element of the '80s sound they are attracted to.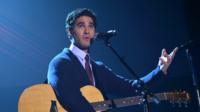 "The song writing quality happening in that decade was just so epic and so good lyrically and melodically," he says.
"Everything just sounded really big and was written really well. That's more so than anything we're inspired by from multiple decades."
As for the upcoming debut album called In A Tidal Wave Of Mystery, they say it will be eclectic.
"Every song has its own personality, its own stamp on it," explains Sebu.
"The other songs are not carbon copies of Safe And Sound. We're very conscious of that but there is something that connects all the songs and I think that's just our melodic style."
It features Andre 3000 on one track and they have enlisted Glee's Darren Criss to star as a angry poker playing dog in the video for the second single Kangaroo Court.
Capital Cities play London's XOYO on 19 September.
Follow @BBCNewsbeat on Twitter