New rules on English and maths GCSE changes explained
2 September 2013

From the section

Politics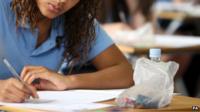 Students in England who fail to get a Grade C or above in GCSE maths and English will have to carry on studying the subjects at school or in higher education from now on.
It's thought the change could affect more than 250,000 young people.
Ministers say it will help pupils become more employable but critics argue the changes aren't enough.
Education Secretary Michael Gove said the two subjects were the ones "employers demand before all others."
The Skills Minister, Matthew Hancock, said: "For lots of employers, if you don't have a C in English and maths you don't get that first foot in the door."
What are the main changes?
Until now you could drop English and maths at the age of 16, without gaining a qualification in them.
But from this new school term, if you fail to get a C or above in these subjects, you'll have to keep studying them until you're 18.
This may involve taking on extra classes at school or college.
If you're doing an apprenticeship or another form of training, those classes will be scheduled into your timetable.
As well as these changes, from this week, young people will also be expected to stay in some form of education or workplace training until the age of 17.
In previous years you could leave school at 16 and get a job straight away.
Does this mean having to re-take the exam?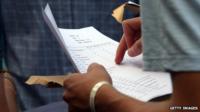 You won't be made to resist the exams unless you want to and you'll be able to take other qualifications in these subjects.
Many employer groups are concerned about the number of people who come out of school without literacy and numeracy skills.
"It's not about the exam and re-sitting although obviously getting the exam is important," said Matthew Hancock.
"It's about continuing to learn English and maths."
Will the changes work?
Last year there were more than 250,000 19-year-olds without a C grade in English and maths.
But not everybody thinks these changes will work.
Alison Sherratt, from the Association of Teachers and Lecturers, says: "Tests sometimes create the feeling of failure. Children who fail the exams so consistently like this, they need the practical things rather than another test."
What do you think?
On Facebook Catherine says: "Didn't take any GCSEs and have never been out of work. Attitude counts for more than a piece of paper."
Adam also liked us on Facebook and said: "I got a D in both subjects, and have been very successful. Schools need to stop teaching to pass an exam, and should start teaching for life."
But Jonjoe disagrees. He tweeted: "I got D in maths and English. Re-took at college and went on to university. Got a job straight out of Uni."
Follow @BBCNewsbeat on Twitter