Head of music: Radio 1's certainly not lost its way
2 September 2013

From the section

Music
Radio 1 is launching a month-long event called Even More Music month, which will last the whole of September.
The station's celebration of music will include special Live Lounges and the return of Fearne Cotton.
Head of music at Radio 1, George Ergatoudis, leads a team who choose what music the station plays.
He said: "Even More Music month is getting right to the heart of what Radio 1's really best at and of course that is music."
He added: "We are known as a world class music radio station and we wanted to come up with a load of ways of celebrating that fact and getting the audience involved."
By going back to the "heart" of what the station does for a whole month, does it mean Radio 1 has been getting it wrong?
"Radio 1's certainly not lost its way, obviously music is always about what we do," he explained.
"It's an essential part of it but we wanted to find a whole month where we could celebrate even more why we are special, why music at Radio 1 is so important."
There will be 24 Live Lounges throughout the month starting with Ellie Goulding on Tuesday 3 September.
Kings Of Leon, Imagine Dragons, Naughty Boy and London Grammar are also on the line-up which ends with Laura Mvula on Thursday 26 September.
Radio 1 has been under pressure to attract a younger audience.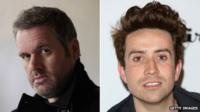 Ergatoudis admits the challenge to attract a younger audience is a very real one for the station as there are so many other platforms for people to discover and listen to music.
"Young audiences have plenty of other ways of getting entertainment," he said.
Despite the introduction of streaming services and the popularity of YouTube, Ergatoudis says BBC Radio 1 is still a key player in the music industry.
"We really are one of the major places that passionately takes care about breaking new music, finding exciting artists and really making sure the audience get a chance to discover them.
"So we have to be even more engaging, more interesting. We're still getting 42 and a half percent of all 15-24 year olds in the UK listening every week."
He says choosing the right music is an important part of defining the type of audience who listen to the station.
"There is lots of time spent on researching, understanding the audience and making sure that when we do choose the record we play that we are choosing the kind of material young audiences are really excited by."
Follow @BBCNewsbeat on Twitter